Back To Blog
Garage door openers are one of the largest objects that need proper maintenance in the home. There are both residential and commercial types of garage doors in different shapes, make, and sizes. Most of them are either remotely controlled or automatic with metal or wood paneling on each side of the door panels. Some garage doors openers have keypads installed outside the door in order to enable individuals to open the door without using a remote. Others (especially commercial openers) can be opened using sensors that indicate when a car is approaching to the door.
How it works?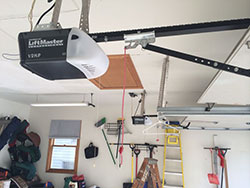 There is an electronic door opener attached to the panel which rolls the door to open and creates a space for the car to move in. Most people believe that the opener is the main mechanism that moves the door completely. This is false because it only starts the whole process to open the door when needed. The garage door springs are the main mechanisms responsible for opening garage doors.
What are the features to look out for?
• The courtesy light is an important feature of the door opener. When the door is about to open, it lights up to the time until the door is properly shut.
• Another feature is the remote lockout which is vital when the user want to go on a holiday or on a long trip that will keep them away for a while.
• Another good option you may decide to add to your garage door is the wireless keypad. There are some door openers that have sensors that can easily detect the build-up of monoxide fumes. The door opens automatically when the sensor indicates that there is excessive monoxide buildup.
• Garage door openers are gadgets that help keep our cars safe in the garage. If you are looking to buy or replace your garage door, our garage door repair experts at Franklin Lakes will be of great help to you.